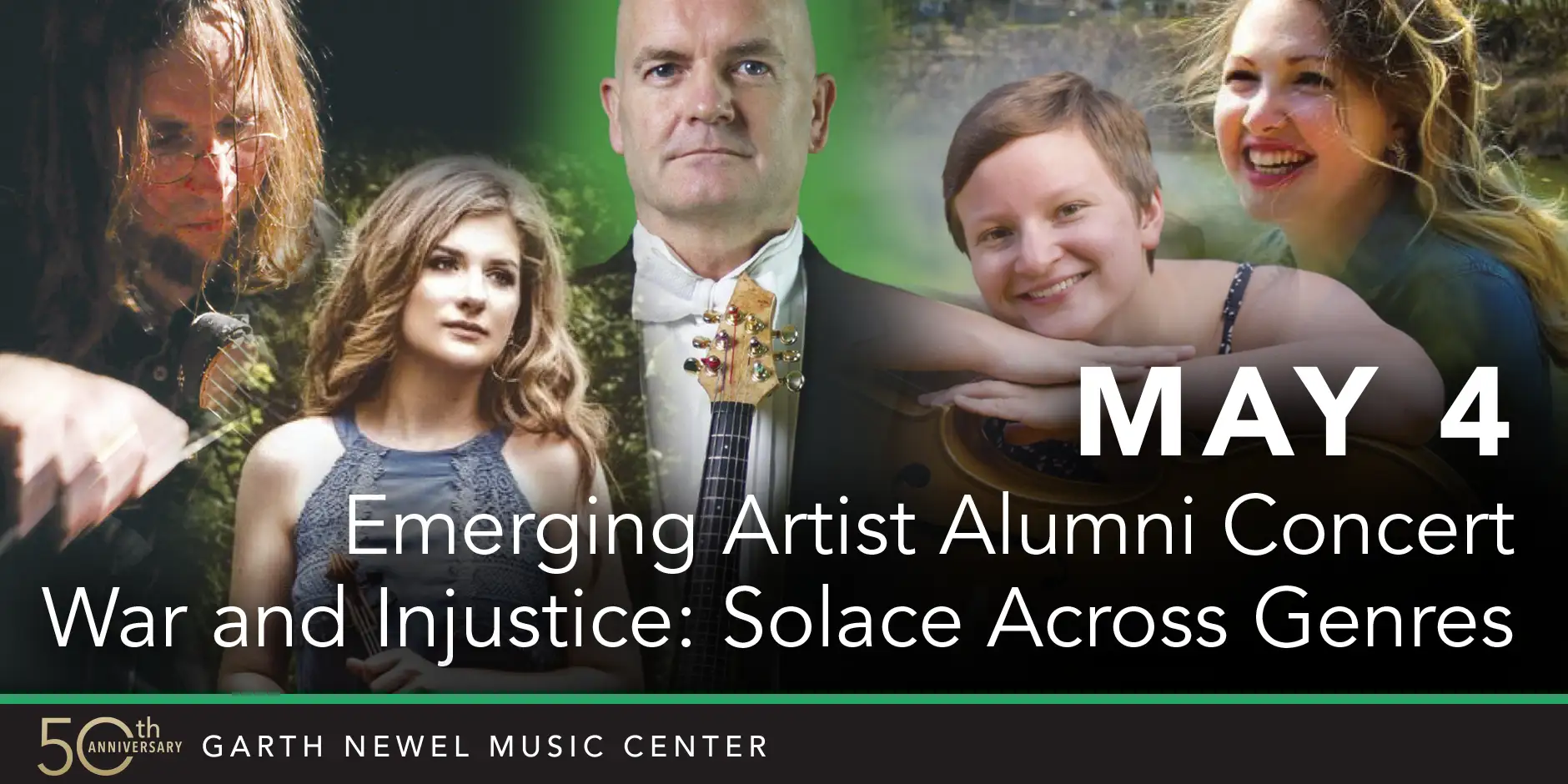 Alumni of the Emerging Artist Fellowship program return to Garth Newel to present recitals as emerged professionals.
May 4 – Emerging Artist Alumni Concert: "War and Injustice: Solace Across Genres"
Alumni Anna Wallace and Hanna Rumora, joined by Kerry Broker, Chuck Bontrager, and Rudolf Haken
3pm Concert followed by Light Refreshments
Reservation Required
Pay-As-You-Wish
Doors open at 2:30pm for a 3pm Concert.
String Quartet No. 8 for electric string quartet – Dmitri Shostakovich (1906-1975)
Largo
Allegro molto
Allegretto
Largo
Largo
One for violin and cello – Metallica (1981-)
arr. by Rachel Barton Pine
Suite for Two Violins – Grazyna Bacewicz (1909-1969)
Allegro
Andante
Vivo
Tempo di menuetto
Allegro
Andante. Fughetta
Allegro
A Change is Gonna Come: An American Medley for Justice for electric string quartet – (arranged by Anna Wallace)
What's Going On – Marvin Gaye (1939-1984) 
Talkin Bout a Revolution – Tracy Chapman (1964-)
Revolution –  Nina Simone (1933-2003) 
It's a Jungle Out There  – Santana (1966-) 
Cult of Personality – Living Colour (1984-) 
A Change Is Gonna Come –  Sam Cooke (1931-1964) 
Anna Wallace, violin and 7-string electric violin
Kerry Broker, violin and 5-string electric violin
Chuck Bontrager, 7-string electric violin
Rudolf Haken, 6-string electric viola
Hanna Rumora, cello 
Event Details & Tickets Below
Programs and menus subject to change without notice.