A live performance at Garth Newel is truly an experience. Along with inspiring performances from the area's best musicians, our resident chef prepares world-class culinary experiences served right in the concert hall. Guests can also elect to stay in our well appointed rooms and enjoy the lovely grounds.
Take out with
Chef Josh Elliot
Relax and let us handle the details! Order from a tasty variety of appetizers, entrees, desserts, and more!
There would be no music without you!
Would you like to know how you can contribute to the inspiring experiences at the Garth Newel Music Center? Learn more about donating, volunteering, Herter Society Legacy Program, and more.
Download the 50th anniversary program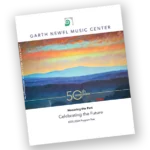 Garth Newel Piano Quartet
The Garth Newel Piano Quartet is known for their spirited and impassioned performances that offer an enlivened interpretation of both standard and new repertoire.
Through live, professional performances, educational programs, exceptional hospitality and opportunity for personal interaction between musicians and audiences, Garth Newel Music Center enriches lives through inspired chamber music and performance arts experiences.