Imagine life at a country estate built in the 1920's and you unlock the magic that is the Garth Newel Music Center. Music, art, fine food, and exquisite landscapes are the centerpieces of this unique experience, and it can be yours to enjoy.
Perhaps you are planning to attend a concert and spend the night, or you are creating a special weekend (or weekday) getaway for two. Maybe you are planning a lavish country wedding or a family reunion and want a unique setting that also offers fine food, gracious hospitality, and a variety of venues from which to choose.
The 114 acre Garth Newel Music Center, located in the beautiful County of Bath in the Virginia's Western Highlands, provides you with that magical place in which to make those special dreams come true.
To Make a Reservation
Contact us at 540-839-5018 or email Jenny Carey – Administrative Coordinator
JCarey@GarthNewel.org
for more information. Office hours are Monday thru Friday, 9:00 am-5:00 pm.
Spend the Night, the Weekend, or Indulge in a Staycation
As you drive through the stone gateway at the entrance to the grounds of the Garth Newel Music Center with its lush expanse of green grass, ancient oak trees, and long winding drive, you feel yourself gently transported back in time. As you reach the crest of the driveway, you see The Manor House, the centerpiece of this country estate, which includes two barns (one which has been converted into our performance hall) as well as other cottages (some of which are private residences).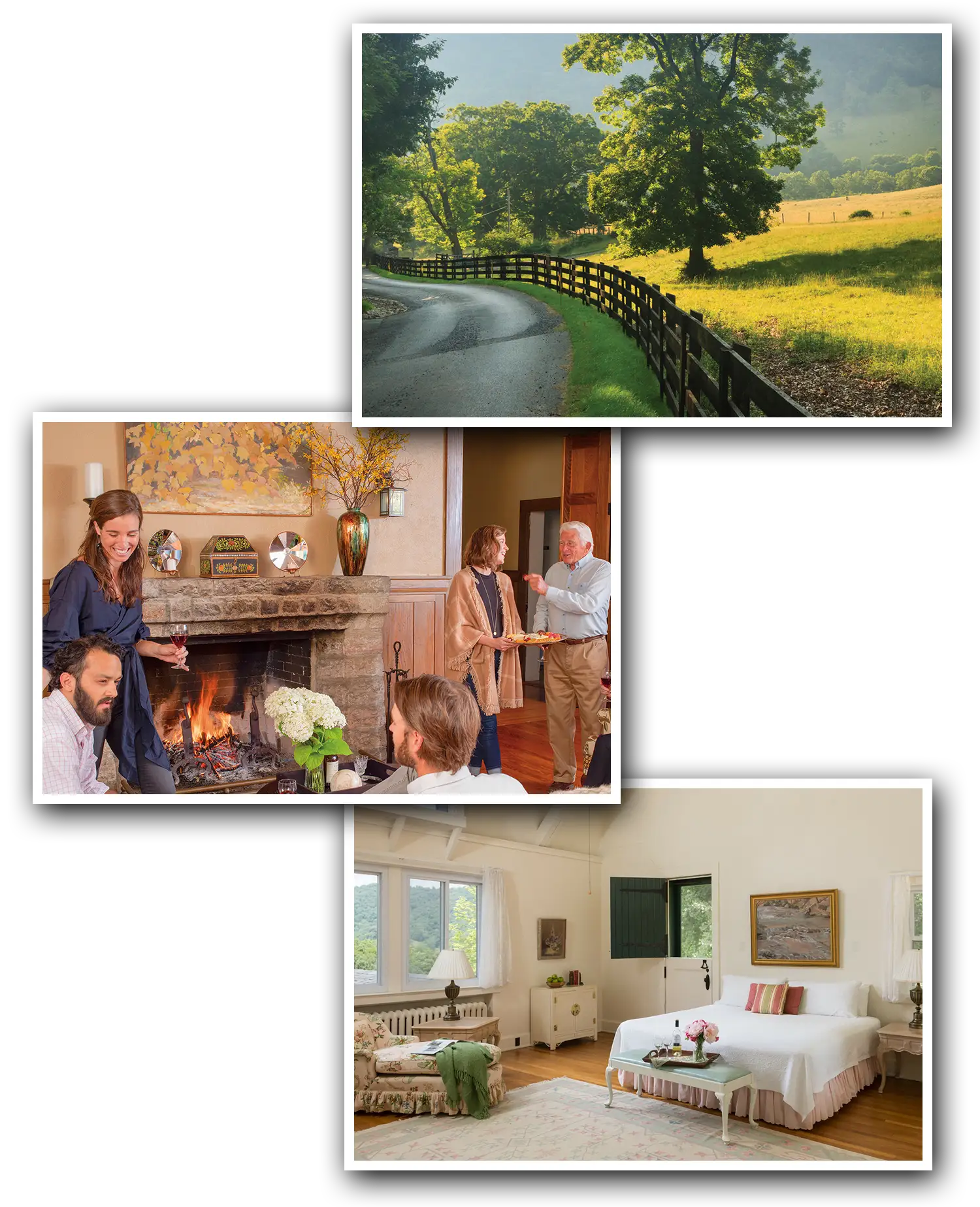 Built in the 1920's as the estate of William Sergeant Kendall and his bride, Christine Herter Kendall, in honor of their marriage; the buildings that comprise Garth Newel have since their inception been the center for art, music, food, and conversation. It was not uncommon for William and his bride Christine, both musicians and artists, to invite their friends from New York and around the world to join them at their estate to paint, make music, and enjoy a wonderful meal and good conversation.
That tradition continues today as we invite guests to complete their Garth Newel experience by spending the night on our 114-acre mountain property. After an evening of music, food, and drink it is but a short walk to our Manor House. The spacious and comfortable rooms are quaintly decorated and the original art on display gives you a glimpse into our creative past. A continental breakfast is available in the morning. The Keurig coffee bar is available 24/7.
Imagine Your Country Stay
The Manor House is a historic property listed on the Virginia Historic Registry and has a wide variety of rooms from which to choose; all of which have been tastefully decorated. The rooms are spacious and comfortable and feature paintings by Christine Kendall and other artists. During your stay, browse the mahogany lined bookshelves filled with interesting reads, stroll the grounds, or hike the walking trail.
The Manor House offers several guest room configurations and can sleep an entire party of 18 or provide an intimate weekend getaway for two. The rooms, all named for famous instrument makers, include a variety of amenities. Each has a private bath providing hotel size soap and lotion, and a hairdryer. The kitchen, living room, and music room/library are common areas and open to all guests staying in the Manor House and free Wi-Fi is provided. A continental breakfast is available each morning.
Overnight stays are popular with repeat guests and our availability is limited so call early to make reservations. The Stradivarius Suite is rented at $125 + tax per night.
Like other homes built during the early part of the last century, all but one of the bedrooms is located on the second or third floors of the Manor House. The Maggini rented at $125 + tax per night and is accessible and the only bedroom available on the ground floor. All other rooms are rented at $120 + tax per night. Check-in time is after 2:00 pm and check-out time is 11:00 am.
The Green Room Apartment can sleep up to 5 guests. It is located just behind and below the stage of Herter Hall, where during the day you may be lucky enough to hear our quartet or guest artists in rehearsal! The apartment has two bedrooms; one with a king bed, and the other with two twin beds that can be converted to a king bed. There is one full bathroom, as well as a living room with a single pull-out sofa bed, and an efficiency-kitchen with a small refrigerator, microwave, and coffee maker. The Green Room Apartment is rented at $200 + tax for the first night and $150.00 + tax for each additional night. Availability is limited.
To Make a Reservation
Contact us at 540-839-5018 or email JCarey@GarthNewel.org for more information.
Office hours are Monday thru Friday, 9:00 am-5:00 pm.
Cancellation Policy
(Please read carefully)
A Credit Card is required to hold your reservation.
Cancellations made less than 14 days in advance will forfeit half the total charge of the room.
No-shows will be charged for the total amount.
Alternate Places to Stay in Bath County
Should our accommodations be unavailable, or if you desire a different kind of overnight experience, please contact any of our Lodging Partners throughout the county:
The Anderson Cottage Bed and Breakfast (approx. 2.6 mi from Garth Newel Music Center) in Warm Springs at 540.839.2975
Fort Lewis Lodge (approx. 18.1 mi from Garth Newel Music Center) in Millboro at 540.925.2314
Hidden Valley Bed and Breakfast (approx. 9.2 mi from Garth Newel Music Center) in Warm Springs at 540.839.3178
Inn at Gristmill Square (approx. 2.5 mi from Garth Newel Music Center) in Warm Springs at 540.839.2231
Hot Springs Victorian Inn (approx. 2.0 mi from Garth Newel Music Center) is functioning as an AirBnB in Hot Springs at 804.510.4191
Meadow Lane Lodge (approx. 9.9 mi from Garth Newel Music Center) in Warm Springs at 540.839.5959
Meadow Villas (approx. 2.6 mi from Garth Newel Music Center) in Warm Springs at 717.951.3955 or 717.367.6970
Natural Retreats Homestead Preserve (various listings) in Hot Springs at 877.805.7794
The OMNI Homestead (approx. 4.0 mi from Garth Newel Music Center) in Hot Springs at 540.839.1766
The Owner's Club (Fractional Ownerships Available) at 540.839.3700
Roseloe Motel (approx. .80 mi from Garth Newel Music Center) in Warm Springs at 540.839.5373
Sycamore Bend Cabin and River Retreat (approx. 15 mil from Garth Newel Music Center) in Millboro at 540.414.4983
Tuck-Away Cabins (approx. 23 mi from Garth Newel Music Center) in Millboro at 540.996.1462
Turtle Brook Farm (approx. 5.8 mi from Garth Newel Music Center) in Warm Springs at 540.8396646
The Vine Cottage Inn (approx. 3.5 mi from Garth Newel Music Center) located in Hot Springs at 800.410.9755. Special Garth Newel Weekend package rates available.
Warm Springs Cottages (approx. 3.1 mi from Garth Newel Music Center) in Warm & Hot Springs at 540.839.2609
Warm Springs Inn (approx. 2.9 mi from Garth Newel Music Center) in Warm Springs at 540.839.5351
Bacova Townhouse: 3, 6 and, 12-month rentals available. Call Larry Hertzberg at 919-210-3473
Other stays within a 30-40 minute drive:
Highland Inn (approx. 32.7 mi from Garth Newel Music Center) in Monterey, VA at 540.468.2143
Windy Mile Cabin Rentals (approx. 38 mi from Garth Newel Music Center) in Rockbridge Baths at 540.348.5040
The Inn at Cliff View (approx. 15 mi from Garth Newel Music Center) in Alleghany County at 540.962.2200