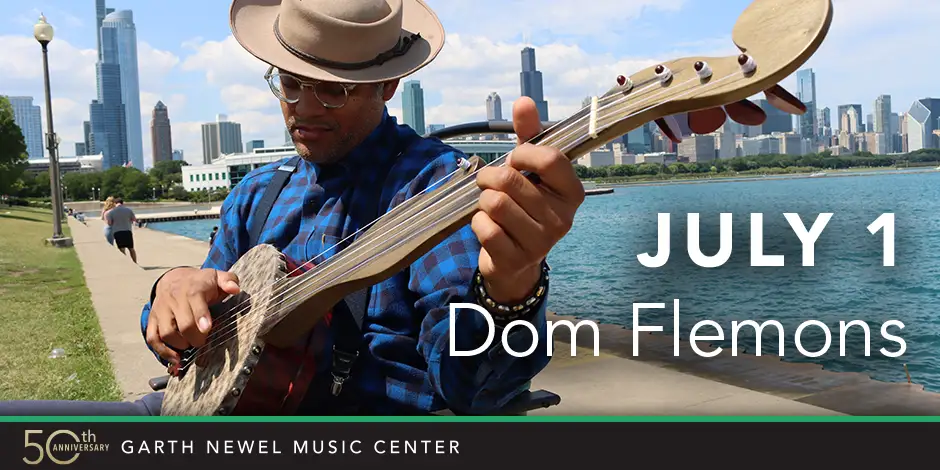 Saturday, July 1
(picnic precedes the concert) 6:00 pm;
7:30 pm concert
GRAMMY Award Winner, Two-Time EMMY Nominee, 2020 U.S. Artists Fellow, Honorary Doctorate Dom Flemons, is a roots musician originally from Phoenix, Arizona and currently lives in the Chicago area with his wife Vania Kinard and their daughter. As a country, blues, and folk musician he is famously known as The American Songster® since his repertoire covers over one hundred years of American roots music. Flemons is a songwriter, multi-instrumentalist, music scholar, historian, actor, slam poet, record collector, and WSM radio producer. He is considered an expert player on the banjo, guitar, harmonica, jug, percussion, quills, fife and rhythm bones. In the spring of 2022, Flemons made his debut as a creator, host, and producer on Nashville's country music radio station 650 AM WSM, where he released season three of American Songster Radio Show. He was awarded a degree as a Doctor of Humane Letters from his alma mater Northern Arizona University and was the commencement speaker at the graduation ceremony for the Class of 2022. In 2020, Flemons was also selected for the prestigious United States Artists Fellowship Award for the Traditional Arts category which was generously supported by The Andrew W. Mellon Foundation.
Dom Flemons released his two CD solo reissue album titled Prospect Hill: "The American Songster Omnibus on Omnivore Recordings in February 2020. Also, he was invited to collaborate with Tyler Childers and performed on his entire album titled, Long Violent History, which received a GRAMMY Nomination at the 2022 GRAMMY Awards. In addition, he collaborated with the legendary guitarist Steve Cropper and Rev. Peyton's Big Damn Band and together they released a single of the Elmore James classic blues song titled "Shake Your Money Maker", which they recorded at Sun Studio in Memphis, TN. Another collaboration included performing on a track titled "Skip, Skat, Doodle-do" which was produced by Branford Marsalis for the soundtrack to Ma Rainey's Black Bottom on Netflix starring Viola Davis and Chadwick Boseman. In 2019, Flemons was chosen to be a "Spotlight Artist" at the Soundtrack of America event curated by the World Renowned Quincy Jones and EMMY Award Winning Director Steve McQueen. He was then featured on the Bank of America and Ken Burns 'Country Music' commercial that airs regularly on PBS.
In 2018, Flemons released a solo album on Smithsonian Folkways Recordings titled Dom Flemons Presents Black Cowboys which is part of the African American Legacy Recordings series, co-produced with the Smithsonian National Museum of African American History and Culture in Washington, D.C. The album sparked a worldwide phenomenon and his interview with AJ+ went viral on twitter and Facebook reaching over 2.5 million views, bringing the black contributions to country music and western history to the forefront of popular culture. His album Black Cowboys received a GRAMMY Nominated and went on to win a Wammie Awards for "Best Folk Album", a Living Blues Award for "New Recordings/ Traditional & Acoustic album", the ASCAP Foundation Paul Williams "Loved the Liner Notes" Award, and he was selected for a 2020 Maryland State Arts Council's Independent Artist Award. The Black Cowboys album peaked at #4 and spent over 55 weeks on the BILLBOARD Bluegrass Charts and Flemons was nominated for "Artist of The Year" at the International Folk Music Awards, "Best Acoustic Album" at the Blues Music Awards, and "Best Folk Album" at the Liberia Awards.
As a solo artist, he has traveled over a million miles all across America and has toured throughout Canada, Ireland, the U.K., Spain, France, Germany, Hungary, Belgium, Denmark, the Netherlands, Australia, and Malaysia. He has represented America at internationally acclaimed venues and festivals, like the Rainforest World Music Festival in Malaysia, the YodelFest in Germany, and the Cecil Sharp House in England. Flemons has performed at historic venues throughout the U.S. including the Grand Ole Opry, the Ryman, the Kennedy Center, Abraham Lincoln's Cottage, Appomattox Courthouse, National Cowboy Poetry Gathering, Smithsonian National Museum of American History, and the opening ceremony for the Smithsonian National Museum of African American History and Culture. Flemons' has performed with hundreds of artists from around the world and has been featured on albums by Tyler Childers, Dropkick Murphys, Fantastic Negrito, Paula Boggs, Eric Andersen, and Martin Simpson. He has performed with Yo Yo Ma, Kathy Mattea, Branford Marsalis, Steve Cropper, Rev. Payton's Big Damn Band, Old Crow Medicine Show, Molly Tuttly, Billy Strings, Jerry Douglas, Andy Hedges, Tony Trischka, Ranky Tanky, Amysthyt Kiah, Leyla McCalla, Valerie June, Rhiannon Giddens (w/ Carolina Chocolate Drops), Allison Russell (w/ Birds of Chicago), David Holt, Guy Davis, Taj Mahal, and Vince Gill, Alvin Youngblood Hart, Jimbo Mathus, and more.
---
Picnic Menu
Grilled Chicken Breast with Artichokes, Mushrooms and Leeks with Caper White Wine Butter Sauce and Parsley, Garlic, Couscous, and Quinoa
Grilled Squash, Portobello, Kale, Cherry Tomato Feta Sauce on Orzo
Various sides, salads, and desserts
Event Details & Tickets Below